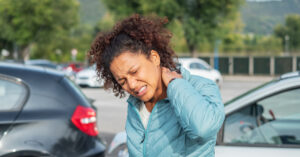 If you've been in a car accident in Douglasville, Georgia, you are not alone. In 2017, there were nearly 4,300 car accidents in Douglas County, of which a third resulted in injuries, according to the Georgia Governor's Office of Highway Safety.
No matter how severe your injuries are, it is important to understand the steps you should take to receive adequate medical treatment and compensation for your injuries if you are eligible.
What Are Common Physical Symptoms After a Car Accident?
The symptoms you experience after a car accident vary greatly based on the severity of the accident. In general, some of the most common aftereffects of a collision include:
Headache
Back or neck pain
Bruising
Trouble concentrating
Mood changes
Tingling or numbness
Upset stomach
Abdominal pain
Swelling
Ears ringing
Dizziness
Blurred vision
These symptoms might develop immediately after the crash or they may develop days or weeks later. Many of these symptoms could be related to the stress of the accident, but they could also be a sign of a serious unseen injury such as a concussion or other traumatic brain injury. When in doubt, it is best to have a doctor evaluate your symptoms.
How Long Does Pain Last After a Car Accident?
Some minor pain may go away within a few hours or days, but other injuries may cause lasting pain that could impact you for months or longer. Treating injuries promptly can promote faster healing and help you feel relief from pain sooner.
What Are the Most Common Injuries of Car Accidents?
The specific nature of injuries varies greatly based on the speed and angle of the crash, the types of vehicles involved, where and how you were sitting when the crash occurred, and many other factors. Injuries could include:
Bruising
Head injuries or concussion
Whiplash
Cuts or gashes
Airbag injuries
Broken bones
Internal organ damage
Emotional trauma
There are many ways a car accident can cause injury. The violent impact of the collision, being pinned inside the vehicle, being cut by broken glass, hitting your head or other body part inside the vehicle and many other factors can all cause injury. It is also common to have bruising or pain on the chest, ribs, or abdomen from the seat belt.
While a seat and shoulder belt may leave bruising after a crash, a shoulder belt restraint system still protects vehicle occupants from much more severe injuries and should always be worn while driving or riding in a car.
Do I Need to Go to The Doctor After a Car Accident?
Seeking prompt medical treatment is important. A doctor will be able to thoroughly evaluate the extent of your injuries and develop a treatment plan.
Even if your symptoms seem minor, it is a good idea to go to the doctor after an accident for a medical assessment. A trained medical professional may recognize the symptoms of an injury before it's apparent to you. Some symptoms can indicate a more serious yet unseen injury.
The doctor will listen to you describe your symptoms and then may perform tests such as an x-ray, MRI, neurological exams, or other tests to identify potential injuries.
A doctor's report also documents your injuries and may serve as supporting evidence if you need to file a personal injury claim. If you wait too long to visit a doctor, the insurance company may question the connection between your injuries and the vehicle accident. It will be harder to prove that your injuries were a result of that accident if you don't see a doctor promptly.
Why Do Some Car Accident Symptoms Not Show Up Until Later?
While you are exchanging insurance information and speaking with police immediately after the accident, you are most likely feeling stress and may not be aware of all the injuries you have sustained. Your body produces adrenaline to give you energy in stressful situations. The rush of adrenaline can mask pain. When it wears off a few hours later, you may start to notice pain you didn't feel initially.
Since car accidents happen quickly, the occupants of the vehicle are often not aware of everything that happened. For this reason, it is not uncommon to find bruises and other injuries after an accident without knowing exactly how they were caused.
If you develop new symptoms several days after your accident, don't hesitate to contact a doctor. Headaches or dizziness can occur several days later and can be a sign of traumatic brain injury.
Abdominal pain or an upset stomach could be a sign of internal bleeding. Back and shoulder pain from a herniated disc, spinal damage, soft tissue injury, or whiplash can also develop over time. These types of injuries can cause lasting damage when they go untreated, so it is important that you are evaluated by a doctor sooner rather than later.
How Long Can I Expect Physical Recovery to Take?
The time it takes for you to recover will depend on the extent of your injuries. Some things you can do that may help reduce your recovery time are:
Seek medical treatment immediately
Follow your doctor's instructions and treatment plan and keep follow-up appointments
Stay committed to physical therapy if prescribed
Reduce stress
Eat healthy
Many people may be afraid to commit to long-term treatment such as physical therapy because they think it is too expensive. You may not be aware that if someone else was at fault for the accident, you may be owed compensation for all your medical expenses, including these types of long-term treatments.
Even if it is determined that you were partially or fully at fault for the accident, your own Personal Injury Protection (PIP) insurance will likely cover some of your medical expenses.
Contact a Douglasville Car Accident Attorney
It is important that you reach out to an experienced car accident attorney who can help you understand your options for compensation so that you can seek the money needed to make a full recovery. The attorneys at Sherrod & Bernard, P.C. have been offering excellent service to clients since the law firm was founded in 1992. We will listen to your concerns and help you pursue the full compensation you need to recover from your accident. Contact us today at 678-905-7503 to schedule a free consultation.

Kenneth R. Bernard Jr. serves as the Managing Partner of Sherrod & Bernard, P.C. A native of Douglas County, Kenneth earned both his undergraduate and law degrees from the University of Georgia. He then served his country as a Judge Advocate General in the U.S. Marine Corps, attaining the rank of Captain during Operation Desert Shield and Operation Desert Storm. After his service, Ken returned home and joined forces with John Sherrod to launch Sherrod & Bernard, P.C., a law firm with a mission of providing superior legal services with a neighborly touch. In addition to his practice, Ken has served on several boards and committees, including three terms as Chairman of the University System of Georgia Foundation, Inc.