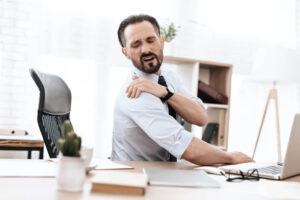 Injuries to the arms and shoulders, such as rotator cuff tears, are some of the most common types of trauma suffered in car crashes. While these injuries can seem minor at first, patients often take a long time to recover. Untreated rotator cuff tears can worsen and cause chronic pain over time.
If you have suffered a severe shoulder injury such as a rotator cuff tear in a Douglasville car accident, the dedicated personal injury lawyers at Sherrod & Bernard, P.C., want to help. Call us today or contact us online for your free initial consultation.
What Is a Rotator Cuff Tear?
The rotator cuff is a cluster of four tendons that keeps your upper arm bone in its socket in your shoulder blade. In addition to keeping your arm in place, these tendons allow you to lift and rotate your arm freely. They are an important part of your upper-body anatomy.
When these tendons or the other soft tissue around them become damaged or torn, the resulting injury is known as a rotator cuff tear.
Sometimes, rotator cuff tears happen over time due to age or repetitive motion, but they can also occur as a result of acute trauma, such as a car accident injury. When tendons of the rotator cuff are damaged, they may undergo complete or partial tears, which can result in serious pain, detachment of the upper arm, and loss in range of motion.
Symptoms of Rotator Cuff Tears and How They Are Diagnosed
Acute rotator cuff tears often cause excruciating pain, weakness in the upper arm, and possible snapping sensations as tendons are violently pulled apart.
Some of the most common symptoms of rotator cuff injuries include:
Soreness while resting, especially when lying directly on your affected shoulder
Pain while raising or lowering your affected arm, or moving it in a specific way
General weakness while elevating or rotating your arm, even if no pain is present
Crepitus, the medical term for a crackling or grating sensation caused by friction in damaged joints
To diagnose your injury and determine whether it is indeed a rotator cuff tear, your doctor will likely examine your shoulder by:
Checking for local tenderness or deformity
Measuring your arm's range of motion in various directions
Testing your overall arm strength
Checking your neck for pinched nerves
Ordering imaging tests such as X-rays and MRIs
Treatment for Rotator Cuff Tears
Rotator cuff tears that are left untreated can get worse over time and leave patients in increasingly severe pain. Any subsequent treatments recommended by medical professionals likely will be focused on reducing physical discomfort and restoring function to the arm and shoulder.
Before most doctors consider surgery, they may prescribe one or more of the following non-surgical treatments, which are often quite effective:
Rest and limited activity with the affected arm
Anti-inflammatory medications like ibuprofen
Physical therapy and shoulder-strengthening exercises
Steroid injections such as cortisone preparations for inflammation
If you have a particularly severe rotator cuff tear, major weakness or loss of shoulder function, or no improvement after several months of non-surgical treatment, your doctor may recommend surgery. Surgical treatment of torn rotator cuff injuries typically involves reattaching the torn tendons in the affected shoulder. Your orthopedist should explain the options available to you that can give you the best chance at recovery.
How Rotator Cuff Tears Are Caused by Car Crashes
Car crashes, trucking accidents and motorcycle accidents all have the potential to cause rotator cuff injuries, even relatively minor collisions.
When drivers or passengers brace their arms against steering wheels, seats, doors, or dashboards in anticipation of a crash, the force of impact can be absorbed throughout the arms and shoulders. This absorption of the extreme forces in a car accident can ram victims' upper arms into their shoulders, placing extreme stress on the tendons of the rotator cuff and causing full or partial tears.
When motor vehicle accident victims have certain pre-existing conditions like arthritis or old shoulder injuries, they are at increased risk of rotator cuff tears. Sometimes, insurance providers may try to deny coverage of accident-related injuries based on pre-existing conditions of this nature. A skilled Douglasville car accident attorney can help you fight back against these underhanded tactics to seek the full compensation you need to recover.
Potential Compensation for a Car Accident Rotator Cuff Injury in GA
There are many factors that insurance adjusters or the courts may consider in determining the compensation you could receive for your car accident rotator cuff injury. The lawyers of Sherrod & Bernard, P.C. can help you evaluate the elements such as the following to help you calculate the compensation that could be available for your case:
The severity and potential long-term effects of your rotator cuff injury
Expenses you incur as a result of medical treatments like surgery or physical therapy
Any current or future wage losses you suffer if you are forced to miss work or end up with permanent partial or total disabilities
Pain, suffering, loss in quality of life, and other non-physical, subjective losses
The circumstances surrounding the car accident, including who was at fault
The insurance coverage available for your claim
Should You File a Car Accident Injury Claim Due to Your Rotator Tear?
In some cases, accident-related injuries are relatively minor and may resolve on their own with time. However, most rotator cuff tears are serious injuries that will only worsen over time if left untreated. If any of the following apply to your car accident rotator cuff injury case, it's likely in your best interest to file a car accident claim with the help of a qualified attorney:
You experience significant physical pain or limited mobility.
You are struggling with mental or emotional trauma.
Your injury was caused by the negligence of another driver or entity.
You incurred significant medical expenses in treating your injury.
Your injury forced you to miss time at work.
You require at-home caregiving, therapy, or accessibility accommodations.
Your overall quality of life has suffered since your injury.
How Our Lawyers Help People With Rotator Cuff Injuries
When you bring your car accident case to Sherrod & Bernard, P.C., our experienced attorneys will be ready to take swift action to identify and preserve valuable supporting evidence for your case. As we prepare the strongest claim possible on your behalf, our empathetic team will also ensure your personal well-being remains a top priority by maintaining consistent communication and even helping you find the medical treatment you need to recover.
To get started with your free initial case review, call our Georgia car accident attorneys today or contact us online.
Kenneth R. Bernard Jr. serves as the Managing Partner of Sherrod & Bernard, P.C. A native of Douglas County, Kenneth earned both his undergraduate and law degrees from the University of Georgia. He then served his country as a Judge Advocate General in the U.S. Marine Corps, attaining the rank of Captain during Operation Desert Shield and Operation Desert Storm. After his service, Ken returned home and joined forces with John Sherrod to launch Sherrod & Bernard, P.C., a law firm with a mission of providing superior legal services with a neighborly touch. In addition to his practice, Ken has served on several boards and committees, including three terms as Chairman of the University System of Georgia Foundation, Inc.