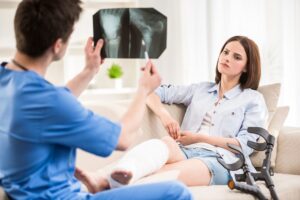 Bone fractures, or broken bones, are among the most common accidental injuries. They can range from relatively mild or extremely serious. If someone else is responsible your broken bone injury, Georgia law allows you to seek financial compensation through a personal injury claim.
The type and severity of a bone fracture will often dictate the course of treatment. The most severe fractures can require extensive and expensive medical care, along with a lengthy rehabilitation period. The costs of medical care, combined with lost wages, often places a significant financial burden on victims and their families.
If you suffered a broken bone in an accident, the Douglasville personal injury lawyers at Sherrod & Bernard, P.C. can help. Schedule a free consultation today to learn your legal options.
What Is a Simple Bone Fracture?
A simple bone fracture, also called a closed fracture, happens when a bone cracks or breaks but does not pierce through the surface of the skin.
What Is a Compound Bone Fracture?
A compound bone fracture, or open fracture, occurs when a broken bone sticks out through the skin.
Which Is Worse — Simple or Compound Fractures?
Compound fractures are almost always considered the more serious of the two types of bone fractures. Compound fractures typically require more extensive treatment to repair. In addition, the rupture of the bone through the skin also increases the risk of complications, such as infection, blood loss, or lack of blood flow to the affected area. In the worst compound fractures, amputation may be necessary.
How Are Fractures Treated?
Simple fractures are normally treated with the use of a cast or splint, which keeps the broken bone stabilized in the correct place to allow it to heal naturally.
Compound fractures require more intensive treatment. Usually, surgery will be required so that doctors can place the fractured bones back into position. Surgeons may need to use external fixation (such as pins, screws, or wires outside the skin) and/or internal fixation (such as rods, plates, pins, and screws) to hold the bone back together as it heals. During surgery, doctors will also try to clean the compound fracture site and remove infected tissue to prevent a secondary infection.
What Should I Do If I Think I Have Suffered a Bone Fracture?
If you've suffered a simple fracture, you may not initially realize that've been injured. Instead, you may begin to notice symptoms such as intense pain, inability to put weight on or move the fracture site, bruising, or swelling, or a visual deformity of the affected area. You should see a doctor as soon as you notice these symptoms.
If you've suffered a compound fracture, it's a medical emergency. Call 911 immediately.
Other steps you can take to help prevent further injury include:
Use sterile bandages or clean cloths to stem any bleeding from a compound fracture.
Don't move the fractured limb or body part.
Do not try to reset the bone yourself.
Use ice packs or ice wrapped in cloth to try to reduce swelling.
Lie down with your legs and torso slightly elevated above your head (if possible). This can help avoid shock.
How Can I Protect My Legal Rights After a Fracture?
If you believe that someone else is liable for your broken bone, there are several ways to protect your legal rights.
Seek medical treatment immediately. Failure to get timely treatment could negatively impact your claim. The insurance company or defendant may argue that you couldn't have been hurt as badly as you say since you didn't see a doctor right away.
Report your injury to the party(s) who may have been responsible for your accident. For example, if you broke your wrist in a slip and fall accident at a supermarket, notify the store management as soon as possible.
If possible, document the accident and injury. Photos and/or video of the accident scene, witness statements, accident reports, and medical records are examples of important evidence that may be used in a personal injury claim.
Follow your doctor's treatment instructions. Not doing so can worsen your condition and prolong your treatment, which can harm your chances of getting full compensation.
Talk to an experienced personal injury lawyer. At Sherrod & Bernard, P.C., we'll listen to your story and determine whether you have a valid personal injury claim in a free consultation.
Types of Compensation for Broken Bones
In Georgia, compensation is possible for a wide range of losses, including:
Past, current, and future medical expenses, including the cost of emergency room and hospital visits, doctors' appointments, surgery, rehabilitation, prescription medication, or assistive devices like crutches or wheelchairs
Lost wages
Lost earning potential, if your injury leaves you with disabilities that prevent you from returning to work
Lost quality of life, such as the inability to participate in activities you once enjoyed
Disfigurement
Pain and suffering
Contact a Douglasville, GA Broken Bones Lawyer
At Sherrod & Bernard, P.C., our lawyers are ready to help fight for the justice you are owed. Schedule a free consultation by calling us or filling out an online contact form today.
John W. Sherrod is a Founding Partner of Sherrod & Bernard, P.C., who has represented injury victims and their families in Georgia for more than 30 years. A native of Marietta, Georgia, John graduated cum laude from the University of Georgia in 1984 and graduated from Mercer University's Walter F. George School of Law at the top of his class in 1987. In addition to his law practice, John is a frequent speaker at trial lawyer functions and an active member of several professional organizations, including the Georgia Trial Lawyers Association and Southern Trial Lawyers Association.