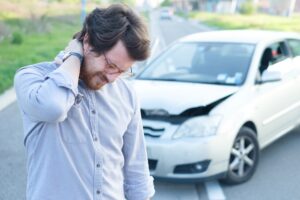 One of the most common injuries that occurs in car accidents is whiplash, a soft-tissue injury that can linger for years after a crash. These injuries often cause intense pain in the victim's upper back, shoulders, and neck. They can make it difficult for people to enjoy the same activities they once did. What's more, these injuries may require expensive medical interventions or physical therapy for patients to feel like themselves again, which places an additional burden on accident victims.
Whiplash injuries can be hard to prove to an insurance company or in court. That's why you need the experienced car accident lawyers at Sherrod & Bernard, P.C. Our legal team can evaluate your case, help you document your injuries and losses, and pursue full compensation from the person responsible for your crash. Contact us now for your free initial consultation.
What Is Whiplash?
Whiplash injuries occur in car accidents when the head and neck are suddenly jerked forward and then back again. The term comes from the violent snapping motion that resembles what happens when someone uses a whip. Whiplash most often occurs when a driver is rear-ended by another vehicle, causing the victim's head and neck to suddenly lurch forward before snapping back.
The speed and force of impact that causes whiplash puts intense strain on muscles and tendons in the neck, shoulders, and upper back. However, whiplash injuries may not manifest for several hours or days after an accident. The symptoms may appear minimal at first before growing much more painful over time. Signs of whiplash include:
Pain in your shoulders, upper back, or neck
Pain when moving your neck (i.e., turning your head to the side, looking up or down, etc.)
A numb feeling in your arms
Limited range of motion in your neck due to pain
Blurry vision
Ears ringing
Feeling irritable or angry for no obvious reason
Problems with memory
Anxiety and depression
Trouble sleeping
How Do I Prove That I Suffered a Whiplash Injury After a Car Accident?
Because whiplash injuries often seem minor at first or do not manifest immediately, it can be challenging to prove these injuries in court. You will need to provide extensive evidence and documentation to back up your claim. Here are some materials our lawyers can help you gather to prove the severity of your whiplash injury:
Doctor records after the accident – Your doctor or a specialist can examine you to diagnose whiplash. They can document the symptoms you are experiencing and the course of treatment prescribed.
Medical imaging records – X-Rays, MRIs, and other medical imaging tests can offer a clear picture of your injuries, as well as demonstrate any progress you have made treating those injuries.
Medical records from before the accident – Medical records from before your accident can help demonstrate the contrast between your health status prior to the crash compared to afterward.
Additional documentation – Receipts and invoices for your medical treatment, documents showing that you missed work due to your injury, daily pain journals, and other evidence can all be used to help show the extent of your whiplash injuries.
What Is the Treatment for Whiplash?
Whiplash injuries can be difficult to treat. Depending on the severity of the symptoms, your doctor may prescribe pain medication, chiropractic treatment, electric stimulation therapy, massage, physical therapy, and orthopedic treatments.
These treatments can be expensive. Even with treatment, sometimes whiplash injuries can be extremely painful for months or years after an accident. It is crucial that you speak with a knowledgeable attorney about your injuries to ensure you are pursuing the full compensation you need to recover.
How Long Do I Have to File a Claim for My Whiplash Injury in Georgia?
In Georgia, any claims related to whiplash injuries fall under personal injury law. State law says that personal injury claims must be filed within two years of the date of injury. If you do not file a claim within two years of your accident, you will most likely lose your right to recover compensation for your injuries.
What Should I Do Immediately After Discovering I Have Whiplash?
Despite how common whiplash injuries are in car accidents, it can still be a challenge to prove your injuries are real and get the compensation you deserve. Here's what to do after you have been involved in a car accident to protect your legal rights:
Seek treatment immediately – The sooner you seek treatment, the better your health outcome is likely to be. Additionally, seeing a doctor quickly after an accident makes it easier to show that your injuries are serious and directly related to the crash.
Follow your prescribed treatment plan – Not following your treatment plan could jeopardize your recovery, and sticking to the plan is another way to demonstrate that you are taking your injuries and recovery seriously.
Gather whatever evidence you have – Medical records, photos from the accident scene, witness contact information, and other details will all be necessary to prove your claim. The more documentation you have, the better your chances are.
Beware of talking to the insurance company – If the at-fault driver's insurance company contacts you, do not give a statement or answer questions about your injuries. Anything you say could be used against you later on. Let them know you will have a lawyer contact them instead.
Speak with an attorney – Insurance companies have massive resources that most people cannot compete with. To demand the full and fair compensation you deserve, you will need the help of an aggressive, dedicated car accident law firm.
Talk to a Whiplash Car Accident Lawyer Now
Our legal team has helped car accident victims recover millions of dollars in compensation. Let us bring our experience and determination to your case. Schedule your free initial consultation with Sherrod & Bernard, P.C., today by calling us or visiting our contact page.
Kenneth R. Bernard Jr. serves as the Managing Partner of Sherrod & Bernard, P.C. A native of Douglas County, Kenneth earned both his undergraduate and law degrees from the University of Georgia. He then served his country as a Judge Advocate General in the U.S. Marine Corps, attaining the rank of Captain during Operation Desert Shield and Operation Desert Storm. After his service, Ken returned home and joined forces with John Sherrod to launch Sherrod & Bernard, P.C., a law firm with a mission of providing superior legal services with a neighborly touch. In addition to his practice, Ken has served on several boards and committees, including three terms as Chairman of the University System of Georgia Foundation, Inc.