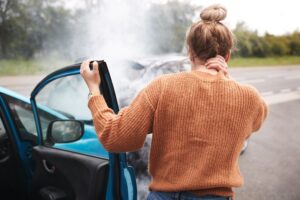 Car accidents in Douglasville can leave victims with a wide range of injuries. Some injuries, like cuts or broken bones, are apparent right away. But others may take time to become evident. Several hours or days may pass before the crash victim realizes that he or she has been seriously hurt.
Concussions can be one of those injuries which are not immediately apparent. This is why it is crucial for you to seek medical attention as soon as possible after you have been involved in an auto accident of any kind. A doctor will know how to examine you and conduct tests which can detect whether you have suffered this mild – but serious – form of traumatic brain injury. The doctor can then begin immediate treatment.
If someone else's negligence caused you to suffer a concussion, you should reach out to our experienced Douglasville car accident attorneys at Sherrod & Bernard, P.C. You will find that our law firm is friendly and down -to-earth. We will take the time to get to know you during your free consultation and understand how your concussion has affected your life, and we will work tirelessly to pursue full and fair compensation for you.
Our lawyers are friendly and down-to-earth. We take the time to get to know you, answer questions, and make sure you understand what's happening in your case every step of the way.
What Are the Symptoms of a Concussion?
One reason why it is so difficult to determine whether you have a concussion after a car accident is that the symptoms are not as visible as other types of injuries. Additionally, they often are not apparent until several days after a car crash occurs. Headaches, confusion and a loss of memory are some of the most common symptoms of a concussion, according to The Mayo Clinic. Sometimes, the loss of memory will cause an accident victim to forget about the accident entirely or forget certain aspects of it. Other symptoms of a concussion include:
Temporary loss of consciousness
Dizziness
Ringing in the ears
Nausea (with or without vomiting)
Slurred speech
Delayed response to questions
Appearing as though in a daze
Fatigue
Trouble with concentrating
Personality changes such as sudden irritability
Sensitivity to light and noise
Problems with sleeping
Depression and psychological adjustment problems
Sensory deficits (especially taste and smell)
After any car wreck, it is important to watch for these signs not only immediately following the accident but also in the days and weeks following the event.
What Types of Car Accidents Are Most Likely to Result in a Concussion?
A concussion can occur in any type of car accident. However, certain types of accidents make them more likely. These types include:
Rear-end collisions – When one vehicle travels behind another and slams into the rear of the car in front, the driver and passengers in the front car are likely to sustain a concussion. This type of crash causes the neck to move back and forth in rapid succession. This is known as whiplash. It can cause a concussion because it moves the brain and shakes it within the skull.
Side-impact collisions – Often referred to as a "T-bone accidents," these crashes are also likely to cause a concussion. Little space lies between the side door and the driver or passenger inside the car that was hit. This force can cause a blow to the head of the people inside of the car that was hit because. Often, they hit their head on parts of the car such as the steering wheel, window or dashboard.
Head-on collisions – These accidents occur when one vehicle slams into the front of another. The impact can cause people in both vehicles to jolt backwards and then forwards and hit their heads on the seats behind them, steering wheel or dashboard.
Multiple-vehicle accidents – When many vehicles are involved in a collision, a person can be thrown in nearly any direction inside of the car. It can result in a driver or passengers hitting their heads on interior parts of the car.
When a person is involved in any of these types of accidents, they should seek medical treatment right away. They should also remain on the lookout for any signs of a concussion.
What Should You Do If You Have Suffered a Concussion in a Crash?
If you believe that you have sustained a concussion after a car accident, the most important thing you will do is seek medical treatment. A doctor can assess your symptoms, and the doctor may order diagnostic tests such as X-rays, MRIs or CT scans. The doctor may also test your memory and attention span in order to arrive at a diagnosis.
If you are diagnosed with a concussion, a doctor may provide a range of treatment options, including getting plenty of rest and avoiding strenuous activity. It is important to know that you are at a higher risk of getting a second concussion and causing more serious injury to the brain after you have initially sustained a concussion.
It will also be important for you to speak to a Douglasville car accident lawyer after you suffer a concussion in a car accident. You may be entitled to compensation for your medical expenses, lost income, pain, suffering and more. A lawyer can help you to pursue those damages.
Our Douglasville Car Accident Attorneys Want to Help You
A concussion can bring many challenges into your life. In addition to facing medical treatment – and the costs of that treatment – you may also find it difficult to return to work for a prolonged period of time. If someone else's negligence caused you to suffer a concussion in an auto accident in Douglasville or elsewhere in Georgia, our attorneys are here for you. At Sherrod & Bernard, P.C., we are passionate about helping accident victims to pursue compensation they need to help them to recover from their injuries. Contact us today to schedule your free consultation.

John W. Sherrod is a Founding Partner of Sherrod & Bernard, P.C., who has represented injury victims and their families in Georgia for more than 30 years. A native of Marietta, Georgia, John graduated cum laude from the University of Georgia in 1984 and graduated from Mercer University's Walter F. George School of Law at the top of his class in 1987. In addition to his law practice, John is a frequent speaker at trial lawyer functions and an active member of several professional organizations, including the Georgia Trial Lawyers Association and Southern Trial Lawyers Association.