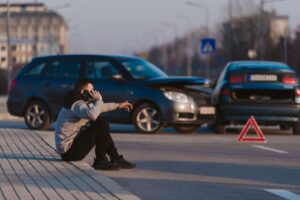 A T-bone accident occurs when the front of one vehicle collides with the side of another vehicle. It's one of the deadliest types of accidents that occur on Georgia's roads. The severity of the impact involved in a T-bone collision often leads to serious injuries for those involved in the accident, particularly for the occupants of the vehicle struck in the side.
Broadside accidents often occur at intersections where vehicles converge at right angles. If one driver runs a red light or disregards a stop sign, a T-bone or side-impact accident may occur. The driver that failed to yield the right-of-way may be struck in the side or slam into the side of another vehicle passing through the intersection at the same time. It can be difficult to determine who is to blame in a T-bone accident unless there are witnesses. It's crucial to have an experienced attorney on your side who can investigate the accident and gather evidence to pinpoint fault.
If you've been involved in a T-bone accident in Georgia, turn to the motor vehicle accident attorneys of Sherrod & Bernard, P.C., for help. For nearly 30 years, our attorneys have been fighting to help injured clients across Georgia pursue compensation and accountability from negligent parties responsible for causing accidents.
We work to provide each of our clients with the personalized, effective legal representation that they deserve. We often are successful in settling cases outside of court. However, the top Douglasville auto accident attorneys at Sherrod & Bernard have the experience and resources to handle your T-bone accident case through a civil trial if necessary.
Contact our law firm today for a free initial case review. Our attorneys will discuss the details of the T-bone accident that injured you. Learn about your legal rights and how a car accident lawyer can help you fight for financial compensation for the harm and losses you've suffered. We can even help with a wrongful death case if you've lost a loved one to one to a fatal car accident caused by a T-bone collision.
What Is a T-Bone Accident?
A T-bone accident refers to a type of collision where the front of one vehicle collides with the side of another vehicle at a right angle. The two vehicles form a "T" shape at the moment of collision. These accidents frequently occur at intersections.
T-bone accidents often cause serious injuries for the occupants of the vehicle being struck in its side. Vehicles have more mass in the front and back, which are designed with crumple zones to absorb the force of the impact. By comparison, the sides offer less protection. The occupants of a car struck in the side receive much of the impact of a T-bone accident, especially any passenger sitting next to the door that is the site of the impact.
What Injuries Are Common in GA T-Bone Accidents?
Given the angle of the impact between the two vehicles involved in a T-bone accident, the collisions commonly result in serious injuries for vehicle occupants. Common injuries from sideimpact collisions include:
Severe lacerations and bleeding
Sprained and torn ligaments, tendons, and muscles
Spinal cord injuries and paralysis
How Is Fault Determined in a T-Bone Accident in Georgia?
Insurance companies determine fault when evaluating an accident claim. If the fault remains a point of dispute and the case goes to trial, then a civil court jury will determine fault for a T-bone accident.
A jury may review multiple pieces of evidence to try to determine what happened in the moments leading up to the collision. Examples of evidence commonly used in T-bone accident cases include:
Vehicle damage/repair reports
Accident scene photos/video
Surveillance camera or dashcam footage
Other physical evidence from the crash scene
Statements from the drivers and vehicle occupants
Accident reconstruction reports prepared by expert witnesses
In many cases, the fault for a T-bone accident may depend on whether either driver violated traffic laws in the moments leading up to the crash. For example, if a driver runs a red light and hits another vehicle, the driver would normally be held at fault because he or she violated the other driver's right-of-way by failing to stop at the light. If the driver whose vehicle is T-boned was the motorist who ran the traffic signal, he or she may be held primarily at fault for the accident.
Determining fault for a T-bone crash is required under Georgia's modified comparative negligence rule. The rule states that an injured party may pursue a claim for compensation so long as their share of fault for the accident and their injuries is less than 50 percent. However, any share of fault that the injured party does bear will affect the compensation they receive.
For example, if a person sustains $50,000 in losses from a T-bone accident, and he or she is found to have been 25 percent at fault for that accident, their total compensation may be reduced by $12,500 to reflect that 25 percent share of fault.
Do I Need Legal Help to Prove the Other Driver Was at Fault in a GA T-Bone Accident?
If you've been involved in a T-bone accident and you were injured, you need to speak to an attorney regarding your legal rights and how an experienced attorney can help you pursue a claim for your injuries and losses. No matter how clear-cut liability for the accident may seem to you, you can still face significant obstacles in pursuing compensation.
For example, the insurance company may try to argue that your injuries are not as serious as you claim or were caused by a pre-existing condition rather than the T-bone accident. The insurance company or at-fault driver might try to argue that you bear some of the fault for the crash, which might reduce your compensation or potentially even bar you from pursuing your claim.
An attorney can help you understand your rights and options for seeking compensation and provide an honest assessment regarding the potential or likely outcomes of your case. An attorney can advocate on your behalf with insurance adjusters and defense lawyers for the at-fault driver to pursue your claim so that you can stay focused on your physical and emotional recovery.
When you need an attorney to help you seek compensation for your injuries and losses from the at-fault driver in a T-bone accident, turn to the Douglasville personal injury attorneys of Sherrod & Bernard, P.C., for a free, no-obligation consultation. Discuss your legal rights and options for pursuing financial recovery with a knowledgeable Georgia motor vehicle accident attorney today. We've been helping people injured in car crashes for years, and we are ready to help you.
Kenneth R. Bernard Jr. serves as the Managing Partner of Sherrod & Bernard, P.C. A native of Douglas County, Kenneth earned both his undergraduate and law degrees from the University of Georgia. He then served his country as a Judge Advocate General in the U.S. Marine Corps, attaining the rank of Captain during Operation Desert Shield and Operation Desert Storm. After his service, Ken returned home and joined forces with John Sherrod to launch Sherrod & Bernard, P.C., a law firm with a mission of providing superior legal services with a neighborly touch. In addition to his practice, Ken has served on several boards and committees, including three terms as Chairman of the University System of Georgia Foundation, Inc.