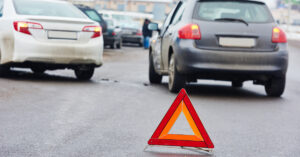 In Georgia, an improper lane change occurs when a driver switches lanes in a way that puts motorists at risk of an auto accident. This may occur when a driver fails to check his or her blind spots, drives aggressively, tries to cut in front of a vehicle, or through other negligent acts. When someone is harmed due to this reckless behavior, Georgia law allows injured people to demand compensation for their injuries and losses. If you were hurt in or around Douglasville, a car accident lawyer at Sherrod & Bernard, P.C. can help you fight for full and fair compensation.
Arrange a free consultation with our Douglasville injury attorneys today.
What is an Improper Lane Change?
Improper lane changes occur every day and everywhere. Georgia law states that drivers must use their turn signals every time they want to change lanes. In addition, any road that is divided into two or more lanes requires all vehicles to use a single lane.
Drivers must also look around to ensure they are leaving enough room between themselves and other vehicles on the road. They are also expected to be aware of rear traffic and use good judgment before changing lanes.
There are also certain places where lane changes are not allowed. It's unlawful to change lanes in construction zones, when passing a school bus, and in other no-passing zones. Any time drivers make lane changes in these areas, it is considered an improper lane change.
How Much is a Ticket for an Improper Lane Change in Georgia?
The penalties for making an improper lane change in Georgia are significant. Drivers may face a maximum fine of $1,000. They will have three points added to their drivers' licenses, which could result in even more penalties in the future if more points are added. For example, if a driver accumulates 15 points on his or her license within a period of two years, the license will be suspended. Offenses that result in points added to a license also remain on a person's driving record for seven years.
Traffic school may not be required for an improper lane change offense on its own. However, when drivers have multiple offenses on their records, they may choose to attend traffic school in order to have a violation reduced.
In addition to criminal citations, drivers who injure or kill others in an improper lane change accident may face civil penalties through a personal injury or wrongful death lawsuit.
How Do You Prove Fault in an Improper Lane Change Case?
The process of proving fault in an improper lane change accident depends on the negligent act the liable driver was engaged in at the time.
For example, if a driver was texting when he or she switched lanes, a lawyer can subpoena his or her cell phone records to prove that the timing of the crash coincided with when the collision occurred.
On the other hand, if the driver was intoxicated, blood tests, breathalyzers, and field sobriety tests can provide evidence that the lane change accident was due to impairment. In any improper lane change crash, police reports, witness statements, and video surveillance can serve as substantial evidence that the other driver was at fault.
When you work with Sherrod & Bernard, P.C., our car accident lawyers will investigate your case thoroughly and gather all of the evidence necessary to build a solid claim for maximum compensation for you.
Where Do Improper Lane Changes Happen Most Often?
An improper lane change accident can occur on any road with two or more lanes. However, these collisions are more common on highways. This is because drivers often fail to properly check their blind spots. They are also traveling at high speed, giving them less time to stop to avoid a crash.
Other places where improper lane change accidents occur include:
Hills and curves
Intersections
Work zones
On multi-lane roads during inclement weather
If you've been hurt in a crash anywhere in Georgia, make sure to contact an experienced car accident lawyer for help.
What Should You Do if a Driver's Improper Lane Change Causes an Accident?
The steps you should take after an improper lane change accident include:
Move to a safe place: You should never leave the scene of an accident. If possible, move your vehicle to a safe place so you do not cause a secondary crash.
Call the police: In Georgia, you must report any accident that results in injury, death, or property damage in excess of $500. A police report may provide valuable evidence in any future claim you file.
Document the scene: You should take as many pictures of the accident scene as possible. Take pictures of all vehicles involved, including their license plate numbers and other environmental evidence that might be relevant. It's wise to get shots of your injuries, both after the accident and during your recovery.
Gather information: You must exchange information with the other driver(s). Write down their name(s), contact information, and insurance information. Also make sure you obtain the names of any eyewitnesses and their contact information. Witness statements can carry substantial weight in car accident claims.
Seek medical attention: If your injuries are urgent, you should call 911 to the scene immediately. Otherwise, see your doctor as soon as possible after the crash. This is important to not only ensure that your health is taken care of, but also to prevent disputes with the insurance company when filing a claim for compensation.
Call an experienced car accident lawyer: An insurance company is not your friend after a crash. It's very likely that they will try to push blame for the accident onto you to avoid making a fair payout. A knowledgeable Georgia car accident lawyer won't let them take advantage of you.
Just as it is important to take certain steps after your accident, there are also important things you should not do. Never admit fault, and do not agree to provide a recorded statement or sign documents until you have spoken to a lawyer.
Our Georgia Car Accident Lawyers Can Help with Your Claim
If you've been injured in an improper lane change accident in Georgia, you have rights. The Douglasville car accident lawyers at Sherrod & Bernard, P.C. can help. We know how crashes can drastically impact victims, threatening their lives, livelihood, and wellbeing. We'll craft a claim that details what happened, who is at fault, and why you deserve full and fair compensation.
Questions? Call or contact us today for a free consultation.

Kenneth R. Bernard Jr. serves as the Managing Partner of Sherrod & Bernard, P.C. A native of Douglas County, Kenneth earned both his undergraduate and law degrees from the University of Georgia. He then served his country as a Judge Advocate General in the U.S. Marine Corps, attaining the rank of Captain during Operation Desert Shield and Operation Desert Storm. After his service, Ken returned home and joined forces with John Sherrod to launch Sherrod & Bernard, P.C., a law firm with a mission of providing superior legal services with a neighborly touch. In addition to his practice, Ken has served on several boards and committees, including three terms as Chairman of the University System of Georgia Foundation, Inc.