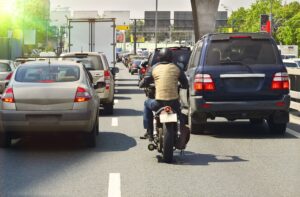 Have you ever been caught in a traffic jam while on your motorcycle in Douglasville or elsewhere in the Greater Atlanta area? Did you feel the urge to jump out of your lane and dart between the lanes of traffic? If so, it is completely understandable. One of the many benefits of riding a motorcycle is that it can help you to get through traffic easier.
People commonly call this practice "lane splitting" or "lane filtering." In some situations, it may seem like a safe and practical way to navigate through heavy traffic. However, in many other situations, lane splitting be highly dangerous and possibly lead to a life-changing motorcycle accident. No matter what, in every situation, it is illegal in Georgia.
Like the majority of states, Georgia prohibits lane splitting. Even though motorcyclists are entitled to full use of a single lane, O.C.G.A. § 40-6-312 bars them from:
Passing a vehicle in the same lane
Operating a motorcycle between lanes of traffic or between adjacent lines or rows of vehicles.
With that said, even if you get into a crash on your motorcycle while lane splitting in Georgia, you may still be eligible to recover compensation for your medical bills, lost income, pain, suffering and other damages. Georgia follows a modified comparative negligence law. Under this law, you can recover damages as long as you were not 50 percent or more at fault for your crash.
If you were recently involved in a lane-splitting motorcycle crash, you can get immediate help from the experienced Douglasville motorcycle accident lawyers at Sherrod & Bernard, P.C. We have more than 75 years of combined legal experience with handling motorcycle accident cases. We will review what happened to you in a free consultation and help you to understand your legal rights and all of the options available to you.
Is Lane Splitting Safe or Dangerous?
Lane splitting typically involves a motorcycle traveling between stopped or slowed lanes of motor vehicle traffic on a busy four-lane road such as Highway 92, Veterans' Memorial Highway or Interstate 20. Because the motorcyclist rides along the line dividing the lanes, people sometimes call this practice "white lining" or "stripe riding."
Lane splitting can be dangerous. After all, motorcycles are smaller than other vehicles on the road, which makes it difficult for car and truck drivers to see them. If a motorcyclist tries to split lanes, the motorcyclist can easily get into another driver's blind spot. Because the driver fails to see the motorcyclist, the driver may pull in front of the motorcycle, leading to a potentially deadly collision.
Still, many people believe that lane splitting should be legal. They tend to argue that lane splitting eases traffic congestion. In fact, a study by the Belgian research firm Transport & Mobility Leuven found that replacing 10 percent of cars with motorcycles could cut time stuck in traffic by 63 percent for motorcyclists and other vehicle drivers alike.
Proponents of lane splitting also argue that allowing motorcyclists to go between lanes actually decreases their risk of getting hurt in a rear-end collision. One University of California Berkeley study reviewed almost 6,000 motorcycle-involved traffic collisions over a one-year period. The researchers found that lane-splitting riders were significantly less likely to be rear-ended than non-lane-splitting riders. They concluded that lane splitting could be safe if it was done in traffic moving at 50 mph or less, and if motorcyclists did not exceed the speed of other vehicles by more than 15 mph.
Today, many states are considering whether they should change their laws to permit lane splitting. Pew Charitable Trusts reports that, in recent years, at least 15 states have considered bills that would legalize the practice. However, to date, none of those bills have passed. Currently, California is the only state where lane splitting is legal.
Can You Still Recover Damages After a Lane-Splitting Accident in Georgia?
Because Georgia law prohibits lane splitting, you may be considered negligent if you were involved in a crash while engaging in this practice. Still, depending on the facts, you may still be eligible to recover compensation from the other driver. It will depend on whether that driver's negligence contributed to the crash, and the proportion of fault that is attributed to you.
Under Georgia's modified comparative fault system, you are barred from compensation only if you are 50 percent or more at fault. So, if you are 49 percent or less at fault, you can still recover damages. However, your damages are reduced in proportion to your degree of fault.
Consider this scenario: You hit stopped traffic while you are riding your motorcycle, and you decide to cut through the traffic by splitting lanes. As you ride, a driver fails to check his or her side or rear-view mirrors and pulls out in front of you. Both you and the other driver could be deemed negligent.
Let's say that a jury finds you that you are 75 percent at fault. You would be barred from recovering any compensation. However, what if the jury finds that you are only 25 percent at fault? You could still recover damages, but they would be reduced by 25 percent. So, if you suffered $100,000 in damages, your recovery would be limited to $75,000.
Our Douglasville Motorcycle Accident Attorneys Are Ready to Help You
At Sherrod & Bernard, P.C., our attorneys protect the rights of injured motorcyclists and their families in Douglasville and throughout Georgia. We know how insurance companies often try to shift the blame for crashes to motorcyclists. They want to avoid paying damages or to pay as a little as possible in order to resolve a claim. We fight back on behalf of our clients and pursue all compensation which they are due.
If you were lane splitting when your motorcycle accident occurred, don't give up on your potential claim. We will thoroughly investigate your case and determine what happened in your lane splitting crash. If the other driver was at fault, too, we will work hard to hold that driver accountable. To learn more, call or reach us online today.
John W. Sherrod is a Founding Partner of Sherrod & Bernard, P.C., who has represented injury victims and their families in Georgia for more than 30 years. A native of Marietta, Georgia, John graduated cum laude from the University of Georgia in 1984 and graduated from Mercer University's Walter F. George School of Law at the top of his class in 1987. In addition to his law practice, John is a frequent speaker at trial lawyer functions and an active member of several professional organizations, including the Georgia Trial Lawyers Association and Southern Trial Lawyers Association.