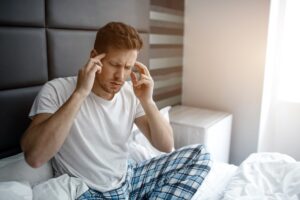 You can suffer many types of injuries when you get into a car accident. One "hidden" type of injury is nerve damage. Even though you can't see the injury like a cut, burn or broken bone, nerve damage can be as severe, costly and debilitating as any other injury that you may suffer. For this reason, you should see a doctor as soon as possible after a crash. You want to ensure that you are thoroughly checked for any potential injuries.
You should also immediately consult with a lawyer from Sherrod & Bernard, P.C. If another driver caused your car accident and nerve damage due to negligence or other wrongdoing, we will help you to pursue all compensation that you are due. For more than 26 years, we have protected the rights of car accident victims and their families in Douglasville and throughout West Georgia. We can put that experience to work for you right away.
Types of Nerve Damage Due to Auto Accidents
Some people describe the nervous system as the body's electrical wiring. Nerves transmit signals throughout the body. Those signals allow the body's other systems to function properly, give power and movement to different parts of the body and allow us to feel sensations. So, any type of nerve damage – also called neuropathy – can have a major effect on a person's overall health and their ability to work and enjoy life.
Unfortunately, in a car accident, the nerves in a person's body can easily suffer damage, from mild to severe harm. Nerves can be stretched, severed, compressed or crushed. In some cases, the nerve damage is secondary to another type of injury. For example, many people suffer whiplash in rear-end collisions. The sudden, violent whipping of one's head and neck, back-and-forth, can stretch or tear nerve fibers. Broken or dislocated bones can also put pressure on nerves and cause a great deal of pain.
Often, when people involved in a crash suffer damage to one or more bones in their spinal column, or vertebrae, it causes the discs which cushion the vertebrae to bulge or herniate. This type of injury is especially common in the lower back area. A bulging or herniated disc can, in turn, irritate surrounding nerves.
What Are Signs of Nerve Damage After a Car Accident?
Because you can't see a nerve injury, you may not readily detect that you have suffered nerve damage after a car crash. Also, you may experience a great deal of shock and adrenaline due to the crash which prevents you from realizing that you have sustained a potentially serious injury. Those are just two of the many reasons why you should see a doctor right away after you have been involved in any type of car accident in Georgia.
It will be especially important for you to see a doctor if you detect any signs of nerve damage after a crash. Common symptoms of neuropathy include:
Tingling or numbness in the arms, legs, hand, feet, fingers or toes
Weakness or loss of sensation in your extremities
Loss of motor control
Feelings of dizziness or lightheadedness
Abnormal pain and sensitivity
Difficulty with speaking
Lack of bowel control.
A doctor will know how to check your medical history and symptoms, conduct a physical examination and order any necessary tests. For instance, the doctor may order you to undergo an X-ray, CT scan or MRI. The images from those tests can help the doctor to pinpoint where the nerve damage occurred and start your course of treatment. (You should make sure to stick with the treatment plan.)
The severity of your nerve damage will determine the extent of your treatment. If you suffered only minor or isolated nerve damage, a doctor may simply order you to rest, take pain medication for a brief period and start a course of physical therapy. The medication can help you to regain a level of comfort, while therapy can allow you to regain strength in the affected area (or areas) of your body. In severe cases, surgery to repair damaged nerves may be necessary. You may also need to use assistive devices such as a cane or walker.
What Are Your Legal Options If You Suffer Nerve Damage in a Crash?
Suffering nerve damage in a car accident can majorly – or even permanently – alter the course of your life. It is no minor injury. You could need costly treatment and therapy. If you require surgery or a long period of hospitalization, your medical expenses could lead to financial disaster. Additionally, due to your nerve damage, you may be unable to return to work for a long period, go back to your former line of work or handle any job at all. On top of it all, the nerve damage may cause continuing physical pain and emotional anguish.
At Sherrod & Bernard, we will support you through this tough time and pursue all of your legal options. You may be able to file a claim against the driver who caused your car accident and nerve damage. You may also be eligible to seek compensation through your own auto insurance coverage. We won't give up until we have explored every potential source of compensation for you.
Since we established our law firm in 1992, we have worked hard to build a reputation as a responsible local law firm that always puts its clients first. Rest assured, we will work closely with you throughout your case and focus on your needs and goals at all times. We want to help you to move on from your nerve injury.
Get Help from Our Douglasville Car Accident Lawyers
Sherrod & Bernard, P.C., provides aggressive legal representation to drivers and passengers who suffer nerve damage and other injuries in auto accidents in Douglasville and surrounding communities in West Georgia. Contact us today to learn more in a free consultation with an experienced and compassionate member of our legal team. We can immediately put more than 85 years of combined legal experience on your side.
John W. Sherrod is a Founding Partner of Sherrod & Bernard, P.C., who has represented injury victims and their families in Georgia for more than 30 years. A native of Marietta, Georgia, John graduated cum laude from the University of Georgia in 1984 and graduated from Mercer University's Walter F. George School of Law at the top of his class in 1987. In addition to his law practice, John is a frequent speaker at trial lawyer functions and an active member of several professional organizations, including the Georgia Trial Lawyers Association and Southern Trial Lawyers Association.