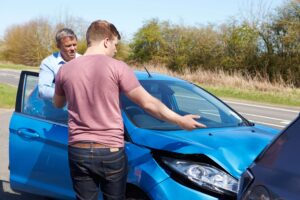 If you have been injured in a car accident caused by another motorist, then filing a claim and seeking compensation for your medical bills and accident-related expenses can be a challenging process. If you may have been partly at fault or if the other driver is blaming you for the crash, resolving the injury claim can be even more complicated.
When two or more drivers share responsibility for a car crash, the legal claims are governed by Georgia's comparative fault laws.
The Douglasville car accident lawyers of Sherrod & Bernard, P.C., can help you understand how Georgia's comparative fault laws apply to your car accident case. Our experienced car accident lawyers can fight back when other drivers' insurance companies try to shift the blame for the accident to avoid paying you just compensation.
If you've been hurt in a Georgia car accident, contact Sherrod & Bernard, P.C., today for a free case evaluation. We have extensive experience handling car accident claims under Georgia's comparative fault system. Let us put our knowledge and skills to work for you.
What Is Comparative Negligence?
The determination of fault after a car accident is usually made by reviewing the accident report completed by the law enforcement officer who investigated the accident. The insurance companies will review the police report, witness statements, and other evidence to determine fault.
Comparative negligence rules apply when two or more parties share fault for an accident. The comparative negligence system is intended to ensure that each at-fault party bears liability for injuries and losses caused by an accident in proportion to his or her share of fault.
Under the comparative negligence rules in Georgia, an injured driver that bears less than 50 percent of the fault for an accident may still seek compensation from other at-fault parties.
What Comparative Negligence Means for You
Comparative negligence rules can have a significant effect on your Georgia car accident case. The application of the rules can limit the amount of compensation you receive from other at-fault parties for your injuries and losses.
This makes it important to conduct a thorough investigation of the car accident to recover all available evidence to prove who caused the accident and the share of responsibility that each at-fault party should bear.
At Sherrod & Bernard, we conduct our own investigation after a serious car wreck involving injuries to identify who is at fault. We seek to collect evidence to support our client's claim. This helps us respond more effectively when insurance companies try to shift the blame for an accident. If an insurance company refuses to pay you fair compensation, our attorneys will be prepared to file a lawsuit and pursue your claim in court.
Comparative Negligence in the State of GA
Georgia follows what is known as a modified comparative negligence system. Under Georgia's modified comparative negligence rule, you may pursue a claim for compensation against another party at fault for an accident and your injuries as long as the party that you are seeking compensation from bears a greater share of fault for the accident than you do.
Even if you are entitled to file a claim against another at-fault party, Georgia's comparative negligence rules also mean that any compensation you might receive for your injuries and losses will be reduced in proportion to your share of fault.
What Does Comparative Negligence Look Like in a Car Accident Case?
In many car accident cases, both drivers involved in the crash share partial responsibility for the accident. For example, a car accident at an intersection may occur because one driver failed to yield to an approaching driver who was speeding and distracted by a cell phone. In that situation, both drivers may be assigned fault for the crash.
The exact share of fault that each driver may be assigned will depend on factors such as the evidence from the crash, witness accounts, and whether either driver was cited or arrested for the accident.
Let's assume, for example, that one driver was found to be 75 percent responsible for an accident while the second driver was found to be 25 percent responsible. If the second driver ended up sustaining $100,000 in losses from the accident, Georgia's comparative negligence rules state that the driver's compensation should be reduced by $25,000 to reflect the driver's 25 percent share of fault for the crash.
How to Know When You Need Legal Help for Your Georgia Car Accident Case
You should contact a personal injury lawyer for assistance if you have been injured in a collision and there is a dispute about who caused the wreck. If you are assigned fault for the car accident, it can mean a complete denial of your personal injury claim.
An experienced attorney at Sherrod & Bernard can conduct an independent investigation of the accident and seek evidence that shows that you did not cause the accident or that you have a lower share of fault for the accident than the insurance company claims.
Our attorneys can push back when insurance companies try to use comparative fault rules to make you an inadequate settlement offer. We will negotiate aggressively for you to receive just compensation.
Contact an Experienced Car Accident Attorney
If you've been injured in a car accident in Georgia, contact Sherrod & Bernard, P.C., today for a free, no-obligation consultation. A Douglasville car accident lawyer will be ready to discuss your accident in detail and outline how we can help you seek the full compensation needed to move on with your life.
Kenneth R. Bernard Jr. serves as the Managing Partner of Sherrod & Bernard, P.C. A native of Douglas County, Kenneth earned both his undergraduate and law degrees from the University of Georgia. He then served his country as a Judge Advocate General in the U.S. Marine Corps, attaining the rank of Captain during Operation Desert Shield and Operation Desert Storm. After his service, Ken returned home and joined forces with John Sherrod to launch Sherrod & Bernard, P.C., a law firm with a mission of providing superior legal services with a neighborly touch. In addition to his practice, Ken has served on several boards and committees, including three terms as Chairman of the University System of Georgia Foundation, Inc.