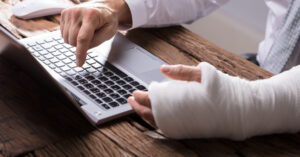 An injured worker who is receiving workers' compensation may consider taking on a second job to make up for lost income due to their injury. Workers' compensation pays roughly two-thirds of the beneficiary's salary or wages, which is a significant reduction in most cases.
However, a second job complicates a workers' compensation claim in several ways. It could easily put benefits in jeopardy and might lead to charges of insurance fraud if handled incorrectly.
Georgia's workers' compensation system is complex. An injured worker who needs workplace injury benefits can make an innocent mistake and see their claim closed and their family left in financial straits. It is best to turn to an experienced Georgia workers' compensation attorney for guidance as you restructure your life following a significant workplace injury. If you are receiving workers' comp benefits in Georgia, talk to an workers' comp lawyer at Sherrod & Bernard, P.C. before taking a second job.
How Does a Second Job Affect My Workers' Compensation Benefits?
Many Georgia residents today work a second job to make ends meet. In most cases, it's good to let each employer know about the other job. Some companies have rules against additional employment, and any employer wants to know you are ready to provide your full effort and focus when you show up to work each day.
If you are receiving or applying for workers' compensation, it is because a work-related injury or illness has made you unable to perform your job duties. The workers' comp insurance program is meant to protect a worker until he or she is able to return to work and provide assistance if the accident caused a permanent disability.
The primary workers' compensation benefits in Georgia are payment of all medical expenses and weekly disability payments to make up for lost income.
Holding a second job while on workers' comp indicates two things:
You have some ability to work.
You have some income beyond workers' comp benefits.
Any employer may question why they are paying you with workers' compensation benefits if you are able to work at another job. You may expect the employer to question your second job and demand that you return to work.
However, a workers' comp recipient may be allowed to work a second job that he or she is capable of performing, despite the injury. The worker would have to show that the job duties were different from their primary job's requirements – that they were not as physically demanding, in most cases – and that the doctor overseeing their workers' comp treatment granted medical clearance to do the job.
If this was a second job you already had and that your primary employer was aware of, it might not cause a problem. However, if it's a new job you have taken, your employer may object. If they were to offer similar work as "light duty" and your doctor cleared you for light-duty work, you would have to accept the work to continue your workers' comp claim.
In either scenario, the money you made would be counted against your income benefit and reduce the amount that workers' comp paid you. If your new job paid as much as your previous employment, you would not qualify for income benefits.
Keep in mind, too, that if you already have a second job that you can continue to work, wages from it will be considered when calculating your workers' comp benefit. A second job would also likely reduce the settlement value of your claim.
What If My Second Job is "Under the Table" and I Don't Report the Income?
Receiving workers' compensation disability payments while working and earning income that you do not report is insurance fraud and could lead to serious consequences.
Workers' compensation insurance fraud in Georgia may be punished by a fine of $1,000 to $10,000 or up to one year in jail, or both.
Not reporting income above a certain amount is also tax fraud, or tax evasion. We are not tax lawyers, but to quote H&R Block: "This issue has gotten many gig economy workers in trouble with the IRS, when they leave out income from their side hustle." You could be required to pay the back taxes, plus a 75% fraud penalty on the corrected tax.
Many employers investigate workers' comp claims, especially costly ones. Hiring a private investigator to determine how badly an employee is injured by tracking their activities is not uncommon in workers' comp cases.
Will Working A Second Job Shorten the Length of Time I Can Receive Workers' Comp Benefits?
Having a second, above-board job should not stop you from receiving workers' compensation benefits if:
You are medically cleared to do the duties of the second job
You accept any light duty job you are capable of that your primary employer offers
Your income does not exceed two-thirds of what you earned each week prior to your injury.
Income benefits are calculated by subtracting what you earn each week from your average weekly wage over the 13 weeks prior to your injury. The disability benefit is two-thirds of the difference.
Working a second job or a light duty job would reduce your income benefits by the amount of money you earned. It would not affect your overall eligibility to receive benefits.
Contact Our Georgia Workers' Compensation Lawyers
Workers' compensation is meant to assist workers who have suffered an occupational injury or illness that makes them unable to work for a living. If you give your employer any reason to think you are capable of working, the employer may question why you should receive workers' comp benefits. Before making any move that could disrupt your workers' compensation claim in Georgia, you should get reliable legal advice.
At Sherrod & Bernard, P.C., our Carrollton workers' comp attorneys have decades of experience helping injured workers in Douglasville, GA, and the surrounding communities of Atlanta's western suburbs. We can review an existing claim, help you file an initial claim, appeal a claim decision or reopen a claim to ensure you receive the full benefit you deserve. Don't leave money on the table due to a mistake or because you don't understand the system. An initial consultation is free, so don't delay. Contact us today.
John W. Sherrod is a Founding Partner of Sherrod & Bernard, P.C., who has represented injury victims and their families in Georgia for more than 30 years. A native of Marietta, Georgia, John graduated cum laude from the University of Georgia in 1984 and graduated from Mercer University's Walter F. George School of Law at the top of his class in 1987. In addition to his law practice, John is a frequent speaker at trial lawyer functions and an active member of several professional organizations, including the Georgia Trial Lawyers Association and Southern Trial Lawyers Association.