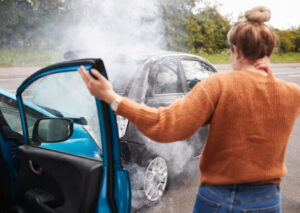 As car accident attorneys, we frequently discuss the needs of Georgia drivers seeking compensation for injuries in car crashes they did not cause. But passengers are injured in car accidents every day as well. An injured passenger may wonder what insurance they should turn to for assistance with the medical costs they face after a car accident.
How a passenger might be compensated for injuries suffered in a car accident depends on who is ultimately found responsible for the crash. But even in a seemingly clear-cut case, the insurance companies involved might have other ideas about their obligations.
In Douglasville and Metro Atlanta, the Georgia personal injury attorneys of Sherrod & Bernard, P.C. can help you sort out who should be held accountable after a car accident. A passenger hurt in an accident may need to file multiple injury claims to obtain justice.
Identifying the Driver at Fault for Your Personal Injury Claim
In Georgia car accidents, the driver of a vehicle is responsible for their passengers. In legal language, drivers on Georgia roads are required to exercise reasonable care to avoid endangering others on the road, including people in their vehicles.
Acting carelessly or negligently in violation of the public duty makes the driver liable if they cause an accident and someone is injured. Georgia's civil laws allow the injured to seek specific compensation for their injuries.
In most car accidents, anyone injured in the crash would seek compensation from the driver at fault, which is typically paid through the driver's auto liability insurance.
Georgia drivers are required to carry liability insurance that, at a minimum, provides bodily injury coverage of $25,000 per person and $50,000 per accident, as well as property damage coverage of $25,000 per accident. Drivers also may buy insurance that provides higher amounts of coverage.
To obtain compensation, you must demonstrate to the satisfaction of the insurance company that their policyholder was at fault for the accident that caused your injuries. If an insurance adjuster disputes your initial claim, you'll need evidence, such as a police report and witness statements.
If you cannot convince the insurance company to pay you, you may file a personal injury lawsuit. A lawsuit sets out your demands for compensation and your evidence as to why the defendant should be compelled to pay you. There are legal requirements for filing a lawsuit. It's best to have a personal injury attorney's assistance.
An experienced personal injury attorney has the resources to conduct a thorough accident investigation. Your attorney will finance the investigation and other costs of your accident claim as part of a contingency fee arrangement. Under this type of arrangement, your attorney receives an agreed-upon percentage of any amount of money recovered as the fee. The attorney does not charge a fee if they do not recover compensation for their client.
If the driver at fault is the "other driver," you'll probably have no hesitation seeking compensation from them. If the driver you were riding with caused the accident, you may feel different about a claim or lawsuit against a friend or relative. You should keep in mind that this is the purpose of liability insurance. Accidents happen, and insurance covers people hurt in accidents.
In some cases, both drivers involved bear some blame for an accident, and claims against both of them may be appropriate. There may also be a third party liable for the accident, such as an establishment that served alcohol to an underage driver or an employer responsible for someone driving as part of their job duties.
Does My Car Insurance Cover Me As A Passenger In Another Car in GA?
In addition to liability insurance, Georgia drivers may buy uninsured/underinsured motorist coverage (UM/UIM), which provides protection for victims of car accidents caused by drivers who don't have auto insurance or who don't have enough insurance to cover losses in the accident.
A passenger in a car accident might hold UM/UIM coverage, which he or she may turn to obtain some compensation for medical bills that exceed the limits of the at-fault driver's insurance. UM/UIM coverage is also available after a hit-and-run accident. An injured passenger might also have health insurance, which can pay medical costs.
If a lawsuit against the at-fault driver is successful, your health insurance company may legally demand to be repaid. This is known as "subrogation of a claim."
If you do not file a claim against the at-fault driver, your insurer could decide to sue the other driver's insurance. Your insurer would weigh whether the amount of expenses paid on your behalf was sufficient to make it worthwhile to try to recoup the expenses from the at-fault driver's insurer.
What to Do After A Car Accident That Was Not Your Fault in Georgia
Liability for a car accident is not always clear. There are steps to take to protect your rights after a car crash:
Get medical care – You should see a doctor as soon as possible for your physical and mental well-being. Getting treatment promptly after a crash also documents your injuries and that they occurred in the accident.
Follow doctor's orders – Failing to follow doctor's orders or keep follow-up appointments could be seen as evidence that you were not badly injured and do not deserve compensation.
Get evidence – Photos from the accident scene and witness contact information may help prove your claim. Get a copy of the police report. Save any documentation of your injuries, treatment and time out of work.
Be wary of insurance adjusters – If you hear from an insurance company, be careful what you do or say. You are not required to speak with another driver's insurance company. Do not give a recorded statement or answer questions about your injuries. Don't trust a settlement offer. No matter how good it sounds, it is probably too low.
Speak with an attorney – A car accident lawyer can assess your claim during a free initial legal consultation and advise you how to proceed. If you have a claim, a law firm has the resources necessary to secure the damages you deserve.
Talk To A Douglasville, GA, Car Accident Lawyer
The injury attorneys at Sherrod & Bernard, P.C., have helped victims of auto accidents recover millions of dollars in compensation. Let us apply our experience and determination to pursuing a claim for you. Call us or visit our contact page now to get started.
John W. Sherrod is a Founding Partner of Sherrod & Bernard, P.C., who has represented injury victims and their families in Georgia for more than 30 years. A native of Marietta, Georgia, John graduated cum laude from the University of Georgia in 1984 and graduated from Mercer University's Walter F. George School of Law at the top of his class in 1987. In addition to his law practice, John is a frequent speaker at trial lawyer functions and an active member of several professional organizations, including the Georgia Trial Lawyers Association and Southern Trial Lawyers Association.