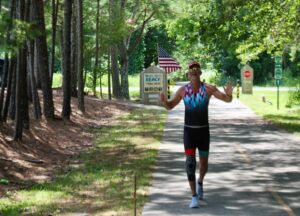 The Douglasville law firm, Sherrod & Bernard, raised over $11,500 for Active Heroes, a top-rated charity with a mission to end veteran suicide in every state. On July 26, the law firm's very own attorney, John Sherrod completed a 70.3 mile swim/bike/run event in partnership with the charity in order to bring recognition to all the veterans going through difficult times.
 Sherrod did the half Ironman triathlon distance that includes a 1.2 mile swim, 56 mile bike and 13.1 mile run. The race took place at Coots Lake and the Comet Trail in Polk and Paulding Counties. Battling the long distance in the late summer heat, the 58 year old lawyer had the support of his family and Douglasville law firm.
Sherrod said, "My goal was to finish; but more importantly, to bring awareness to Veteran suicide." Twenty-two veterans commit suicide every day. Active Heroes nationally provides activities, peer guidance, and serves thousands of veterans at the Active Heroes Community Center. The charity is developing a retreat center to help heal post-traumatic stress.
  All funds raised will be used to support the veterans returning home, those men and women who provide us with the freedom and safety we enjoy in our country. "Too many of these soldiers return home and are forever changed, unable to adapt and can't recover from the harsh realities of combat," Sherrod said.
The donations, the prayers, and the support from his friends got him to the finish line. "The heat was brutal and I wanted to stop but I kept going because the cause was too important," added Sherrod.
John W. Sherrod is a Founding Partner of Sherrod & Bernard, P.C., who has represented injury victims and their families in Georgia for more than 30 years. A native of Marietta, Georgia, John graduated cum laude from the University of Georgia in 1984 and graduated from Mercer University's Walter F. George School of Law at the top of his class in 1987. In addition to his law practice, John is a frequent speaker at trial lawyer functions and an active member of several professional organizations, including the Georgia Trial Lawyers Association and Southern Trial Lawyers Association.