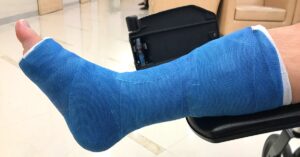 If you get injured on the job in Georgia, one of the first things you should do is apply for workers' compensation benefits. However, if you have a pre-existing condition, you might be wondering whether you qualify.
The answer is yes, with certain exceptions. Under Georgia law, you are legally entitled to workers' comp benefits, even if you have pre-existing conditions. You just need to prove that your current job made your pre-existing injuries worse. Simply put, workers' comp will pay benefits for the aggravation of a pre-existing condition, but not for the condition itself.
What Is a Pre-Existing Condition?
In terms of workers' compensation, a pre-existing condition is any injury that you had prior to your current work-related injury. It can be an old injury that you sustained sometime in the past, either due to work or because of an accident not related to work. It can also be a health condition that you've always had or one that you've developed over the years.
Some of the most common pre-existing conditions and injuries include:
Herniated discs
Degenerative disc disease
Back and neck injuries
Carpal tunnel
Arthritis
Shoulder injuries
Leg and knee injuries
Rotator cuff syndrome and tendon injuries
Asthma
COPD
Soft-tissue injuries and nerve damage
What Does Workers' Compensation Cover?
Workers' compensation is an insurance program provided by employers to their employees who are injured on the job. If your workers' compensation claim is approved, the benefits may cover the four following areas:
Medical Care: Benefits for medical care will cover any medical costs you've incurred due to work-related injuries. This includes hospitalization, medication, doctor visits, testing, medical equipment, and other related medical expenses.
Disability: Your injuries might be so severe that you need to take time off work. In this case, workers' compensation disability benefits will kick in and replace part of your regular wages.
Rehabilitation: Many injured workers can't immediately resume work after getting treatment for their injuries. This is why workers' comp benefits cover the cost of vocational and psychological rehabilitation to get you back up and running.
Death Benefits: If your loved one sustained a fatal work injury, you can seek death benefits through workers' comp to cover the cost of funeral and burial expenses.
Is Georgia Friendly to Pre-Existing Conditions for Workers' Compensation?
Pre-existing conditions can definitely complicate your potential workers' comp claim, but it's not impossible to get one approved. Once you file a claim, the State Board of Workers' Compensation will determine how much your current work injury is related to any pre-existing you may have.
There are three types of claims for those with pre-existing injuries:
Pre-Existing Condition Related to Prior Claim: If your current work injury is aggravating an old injury that you previously received workers' comp benefits for, your new claim may still be approved. However, you won't receive full benefits. In other words, your employer is only responsible for the aggravation of your injury, not for the injury itself.
Pre-Existing Condition Not Related to Prior Claim: If your current work injury is aggravating an old injury that you never filed a workers' comp claim for, then you can receive benefits. However, your workers' comp benefits will likely only compensate you for the degree of worsening.
Unrelated Pre-Existing Condition: You may have a pre-existing condition that is completely unrelated to your current work injury. In this case, you should receive the full amount of workers' comp benefits.
You should always consult with an experienced workers' compensation attorney in Georgia about your rights if you have a pre-existing condition. For example, you may think that your current work injury is aggravating a pre-existing condition, but it may be a new injury entirely. An attorney can ensure you are pursuing the full benefits you deserve.
What If I Was Unaware That I Had a Pre-Existing Condition?
In some cases, injured workers aren't aware that they have a pre-existing condition, especially if it is asymptomatic. When filing a workers' comp claim, though, the unknown pre-existing condition will be treated the same as if you had known about it. Like other cases, the board will make a determination about whether your current work injury aggravated your pre-existing condition and, if so, to what extent. You will then be compensated accordingly.
What's the Difference Between Covering the Aggravation and Covering the Pre-Existing Condition Itself?
The difference is in the amount of benefits you receive. For example, let's say you developed carpal tunnel due to a previous work injury. After initially sustaining that injury, you applied for a workers' compensation claim and received benefits.
Then a few years later, you sustained an injury at work that aggravated your pre-existing carpal tunnel. If your new claim is approved, you will only be compensated toward the percentage of the injury that was aggravated. As a result, the benefits will be less than what you received for your prior claim for the initial injury.
Is There a Limit to the Amount of Money You Can Get for a Pre-Existing Condition Under Workers' Compensation Law?
Since you'll be receiving benefits for only the aggravation of your pre-existing injury, once the aggravation resolves, your claim will no longer be compensable. Essentially, you'll stop receiving workers' compensation when your condition returns to how it was before you sustained your current work injury.
How Can an Attorney Help Me?
The process for claiming workers' compensation benefits when you have a pre-existing injury can be complex. To support your claim for work-related injuries, you'll need to gather the appropriate evidence. An experienced workers' compensation attorney from Sherrod & Bernard, P.C., can gather all the evidence necessary and build a strong case for you.
Here's another important thing to keep in mind: Even though workers' compensation exists to help workers, your employer's insurer might do everything it can to limit the amount it has to pay. For example, the insurance company may deny your claim and argue that your current symptoms are 100 percent related to your pre-existing condition. If that happens, our attorneys could help you file an appeal and fight for the financial support you're entitled to receive.
If you've been hurt or have become ill on the job, call our Douglasville workers' compensation attorneys or reach out to us online to schedule a free consultation.

John W. Sherrod is a Founding Partner of Sherrod & Bernard, P.C., who has represented injury victims and their families in Georgia for more than 30 years. A native of Marietta, Georgia, John graduated cum laude from the University of Georgia in 1984 and graduated from Mercer University's Walter F. George School of Law at the top of his class in 1987. In addition to his law practice, John is a frequent speaker at trial lawyer functions and an active member of several professional organizations, including the Georgia Trial Lawyers Association and Southern Trial Lawyers Association.